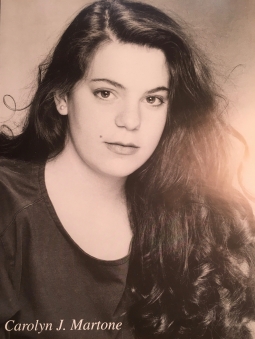 More media files associated with this campaign »
About this campaign
A million thanks to everyone who reached out this week to express sympathy for the devastating loss of our beloved Carolyn. This site has been created for those of you seeking to to offer a gift to our family, however small.  Carolyn was a single, working artist and with this in mind we would humbly and gratefully accept any gift you might make in the form of a donation. All donation gifts will be applied to the costs of the wake, mass, burial, and reception.
A wake service open to family and friends will be held on Monday, May 15th from 4-7p.m. at Mater Cristi in Albany, New York (address below).
A funeral mass open to family and friends will be held on Tuesday, May 16th at 10:30a.m. (also at Mater Cristi).
Parish of Mater Cristi 
40 Hopewell Steet 12208


A note from Paul, shared on Facebook Tuesday May 9th . . .
As many of you know, my beautiful, brilliant, and hilarious sister Carolyn J. Martone died yesterday after a two-year battle with cancer. She was 44. Carolyn loved sending childhood photos to my brothers and me and would attach photos of us from the 70s and 80s to birthday and Christmas cards, because she thought it was hilarious, as opposed to annoying, which is how it was often received, and so tonight I'm sharing this beautiful photo of Carolyn at age one. Isn't it the greatest?? Last week I was with her, at her bedside in Los Angeles, for six days. We had an intense and complicated relationship and last week we shared many thoughts and feelings with each other. I held her in my arms and kissed her head a thousand times and kept saying "I love you" until she got sick of hearing it and made me stop. She was dying but still telling jokes, and she made me laugh and cry my eyes out and even got in a few last shots, really good ones. My father, Lawrence Martone (Pops), and my brothers, Joseph Martone and John Martone, were Carolyn's greatest allies, her greatest champions, along with her many loving relatives and friends. Thank you to everyone who donated to the Go Fund Me account that John and Joe spearheaded. Carolyn utilized the funds to pursue medical actions that wouldn't have been feasible otherwise, and our family is forever grateful for your generosity. Many thanks also to everyone who reached out today through calls, emails, and texts. Please don't take it personally if we don't respond right away. We're operating out of three states and finalizing wake & funeral arrangements for next week in Albany. I'll call and text extended family and friends and post on Facebook as soon as I have the details, hopefully tomorrow. Joe, John, Carolyn, and I were raised on Jim Croce music. Pops had some of his records at the family house on South Pine Avenue and we listened to them all the time, and to this day we crank up Croce on road trips and at family gatherings and conclude most of our conversations, emails and texts with these words . . . "Peace, Love, & Croce." These are our words, as siblings. They unite us as family. And now these words must be amended. And so to everyone out there, east coast and west, who knew and loved her and is hurting right now, please know that we feel you, you mean the world to us, and you are family . . . Peace, Love, Croce, and Carolyn.
Updates
No Project Feeds available
Page 0 of 1, showing 0 records out of 0 total, starting on record 0
No updates available
This Campaign has begun funding. ♥ $5 minimum required. Campaign ends Wednesday May 24, 11:59 PM UTC
Contributors

1
Funding amount $

5,000.00

$

250.00
Hours to go
Campaign by

1 Campaign(s)
0 Donated campaign(s)
Following 0 campaign(s)
Followers (

0

)

No followers available