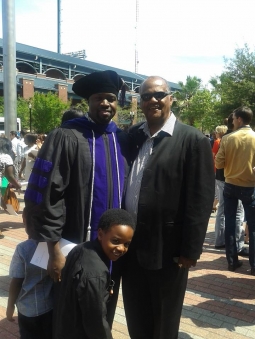 More media files associated with this campaign »
About this campaign
El Espada Timothy Matthews was first and foremost, a loving and devoted husband to his soulmate, Carolyn. It is unthinkable that they should be separated so soon. Together, they are raising their two beautiful and brilliant grandsons, and have so much life and love between them.


Just last month, the family encountered an unexpected and sad loss in that Espada's brother, Orlando, died somewhat suddenly, of a stroke. Now, while still in the throes of mourning for that loss, the family is blown away by the untimely death of their patriarch, Espada, who left us in the same tragic way. 

This family and this community have had two whammies blown at us in a short span of time. 

Both El Espada and Orlando were very conscientious individuals. 
They both were in the process of pursuing justice for their mother, Mrs. Edna Matthews, who was attacked in 1978 and who died without a resolution to the act of savage cruelty toward her. Now, it is unclear if justice will ever be served on her behalf.


Aside from being a political and community activist who was solely responsible for the sunshine ruling of open council meetings, El Espada Matthews is a renowned and published writer/author and songwriter, with some of his lyrics covered by Memphis great, Ann Peebles, B.B. King, and Bob Seger, to name a few. One of his songs has been covered by more than 100 artists!  

In the words of the African proverb, "When an old man dies, a library burns to the ground." That is exactly how we feel. Timothy had so much more to give to this community. He had so many stories to tell, so much to teach to his grandsons and his mentees all around the city.



So, we have experienced a great, great loss.  El Espada was well liked and admired by all who knew him. Espada was a teacher for the school district, but was laid off, losing his insurance benefits. The family needs your help to cover the expenses of Espada's burial. After having to pay Orlando's funeral expenses (without insurance), the family is really stretched financially. Your donation will be used to help pay for the funeral expenses for Timothy, and alleviate the stress on his wife who remains the sole custodian of two young grandsons.
Updates
No Project Feeds available
Page 0 of 1, showing 0 records out of 0 total, starting on record 0
No updates available
Funding closed on Sunday Nov 30, 11:59 PM UTC
Contributors

2
Funding amount $

5,000.00

$

10.00
Campaign by

United States
Memphis, United States
1 Campaign(s)
0 Donated campaign(s)
Following 0 campaign(s)
Followers (

0

)

No followers available