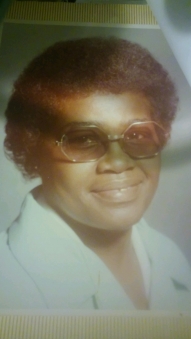 More media files associated with this campaign »
About this campaign
My mother, Florine Paris, born June 8, 1927 in Port Gibson, Mississippi, was a very selfless person. She loved to help people. Her main purpose in life was to help people with their health by providing nutritious meals. She worked in various positions where her skills as a nutritionists came in handy.
 She cared about others and their health more than I believe most people could have ever imagine. She valued life, and she would become frustrated when others would not only waste precious time but also threw away food. As a nutritionist she helped many families create a healthy meal plan for each day of the week. She was great in showing you how to take left overs or ends of bread and prepare a meal fit for a king. I can remember going to many homes in Beverly Hills California and surrounding areas whereby her clients lived. Many times for the holidays we would go to feed the homeless and give gifts to the children in the hospital at Christmas time. In her eyes, she wanted to show me that there where others that was less fortunate than I and at no time should I waste food or abuse my toys that I had because it was only by God's grace and mercy.
My father passed of an unexpected death when I was a toddler so as an only child, she raised me as a single mother and made sure I had the tools to make good decisions and that I had the knowledge to take care of myself.
This is extra hard for me, with her passing at this time of my life.
A few years ago, I lost my husband who suffered a major heart attack and the doctors indicated to me with all of the other medical problems he dealt with, CPR was not enough to save him. I also lost my stepson who passed just a few months later.
October 8th, my mother was admitted to ICU where she was on antibiotics and seems to be getting better. I was in the process of looking for a physical therapy skilled nursing facility for her and everything was all set to transfer her, but on Nov. 3rd, the day she was to be discharged, I received a call at 3am that she had a setback and was being taken back to ICU.  On Nov. 9th she made her transition and I was not able to make it back in time to say goodbye.
Which brings me to the main point, I am seeking assistance with the cost as she did not have adequate insurance to cover funeral costs. Since I am unable to work due to a car accident which left me with fractured ribs and hips, I do not have the means to provide a memorial service for her. As an only child, there is very little family I can turn to for help. My prayer is that you understand the urgency. I thank you in advance and more importantly I look forward to the time that I can pay it forward.
Updates
No Project Feeds available
Page 0 of 1, showing 0 records out of 0 total, starting on record 0
No updates available
This Campaign has begun funding. ♥ $5 minimum required. Campaign ends Friday Dec 18, 11:59 PM UTC
Contributors

1
Funding amount $

10,000.00

$

100.00
Hours to go
Campaign by

1 Campaign(s)
0 Donated campaign(s)
Following 0 campaign(s)
Followers (

0

)

No followers available