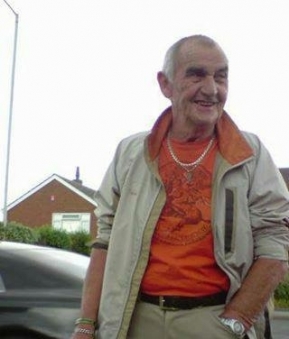 More media files associated with this campaign »
About this campaign
It goes without saying that Len Woodhall left his mark in this world, and most definitely with our Centerville Crew. With a flood of Facebook and Media posts commemorating is accomplishments and the impact he had as a coach, a father, a friend, and even a life coach we can all agree that Len was one of a kind and will be greatly missed. <?xml:namespace prefix = o ns = "urn:schemas-microsoft-com:office:office" />
It's has been beautiful to see the outpour of those who cared for Len:
Sky Sports TV recognized Len's passing with 10 bell rings before a boxing match in the UK (posted by Andrew Paddy Patterson- former trainee and friend of Lens).
Shropshire Star (paper in the UK) did a 2 page tribute- "How Len Woohall changed the game".
And there have been numerous posts among our Centerville Crew sharing how he personally impacted their life.  
Because there are so many in the States that will not be able to celebrate Len's life with his family in the UK, we are putting together a life celebration party here in the Centerville area, with our honored guests Ann Rosser (now Ann Woodhall!) and her travel companion (she is unable to travel alone for health reasons). We are asking that we all come together to make this trip happen for Ann and her travel companion, as it has been a dream of Ann's to come to the states and it had been a high desire of so many in Centerville to meet Len's lovely wife! Let's re-unite, bring Ann out, and have one hell of a celebration- Len style! Every donation, big or small, is greatly appreciated and will help make this reality! All money will be used for Flights, Travel Insurance, and anything left over will be sent with Ann to take home.
Thank you in advanced.
In loving memory of Len Woodhall.
Updates
No Project Feeds available
Page 0 of 1, showing 0 records out of 0 total, starting on record 0
No updates available
No contributors available
This Campaign has begun funding. ♥ $5 minimum required. Campaign ends Friday Aug 21, 11:59 PM UTC
Contributors

0
Funding amount $

4,000.00

$

0.00
Hours to go
Campaign by

1 Campaign(s)
0 Donated campaign(s)
Following 0 campaign(s)
Contributors (
0

)
No contributors available
Followers (

0

)

No followers available