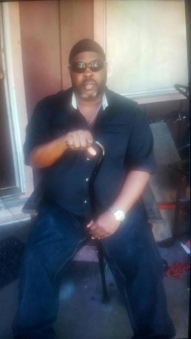 About this campaign
On Tuesday, January 3, 2017 a bright light in the community was called home.  Richard White age 55 passed away peacefully at home with his loving wife by his side.  Richard was a long time resident of La Porte.  As well as being a loving husband to Wanda he was a son, a brother and a dad.  This untimely tragedy has left our family and friends not only to grieve but has placed a huge financial burden on us.      Richard had no insurance at his time of death.  Although he worked for the City of La Porte for six years, he was forced to leave his job a few years back for health reasons.  He was a diabetic and lost his vision suddenly.  Wanda stood by his side and took care of him.  
    At this time our family is asking for any help you can find in your hearts to give to make sure that this man with a heart of gold has a modest and respectable funeral service and burial.  Unfortunately many of you know how truly costly this process is.  

    Not only has Richard's mother lost her first born son and his grandmother lost a grandson, the family home that the two elderly ladies resided in with his baby sister and niece was devastated by fire on December 21 just 4 days before Christmas.  This family has been left in temporary housing in different locations around the Houston/Katy area.  There was no insurance on the home so no repairs have even been started to rebuild.  This is why we are praying that you guys can help relieve the burden of the funeral expenses for our grieving family and mother.
    We will be holding a benefit with BBQ plates and activities on Saturday, January 7, 2017 from 9:00 AM until ??? at Stepping Stone Funeral Home located at 215 S. Broadway, La Porte, TX.  Please come and join us to make this a success. Thank you all in advance for your prayers and generous contributions, 
Updates
No Project Feeds available
Page 0 of 1, showing 0 records out of 0 total, starting on record 0
No updates available
No contributors available
This Campaign has begun funding. ♥ $5 minimum required. Campaign ends Friday Jan 20, 11:59 PM UTC
Contributors

0
Funding amount $

10,000.00

$

350.00
Hours to go
Campaign by

United States
La Porte, United States
65 Campaign(s)
2 Donated campaign(s)
Following 0 campaign(s)
Contributors (
0

)
No contributors available
Followers (

0

)

No followers available