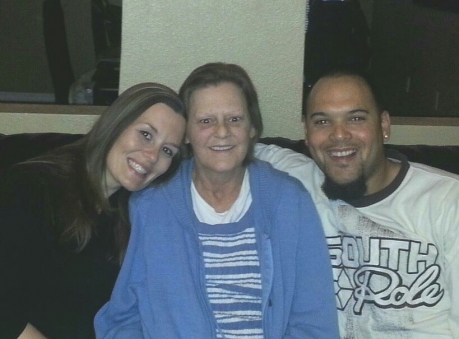 More media files associated with this campaign »
About this campaign
Patrick and I lost our mother to cancer on Monday, January 4th.  It was my honor to be her full-time caretaker during the darkest time of her life.  It was a slow fade…  Then suddenly, she was gone.  During her last moments, I looked her in the eyes with tears streaming down my face, and told her how much we loved her, that Patrick and I were going to okay, and how excited Jesus was to welcome her home.  In a moment's time, she breathed her last breath, and I saw my mother for the last time on this earth.  Although we are broken inside, we have peace in knowing that she is no longer suffering, and is far better off than we are.  We can picture her now- smiling, laughing, learning some new jokes, and catching up with family who have gone before her.  
We are in the process of planning a "celebration of life service", and we do not currently have a date set.  Since she is being cremated, we have decided not to rush the planning of the service, but rather wait a few weeks if necessary.
            Many of you, our dear friends and family have been so supportive with your kind words, prayers, and assistance.  Some have offered to help in any way possible.  Mom did not have any life insurance, and our family is bearing the cost of funeral home expenses.  We ask that in lieu of flowers or other gifts of kindness, that you please help with the expenses incurred.  If it works out better to give with a card, you may give through the link on this page.  If you wish to give a check, you may send it to: 128 Colby Ave, Eufaula, AL 36027, or to Patrick's address at:  7187 Oxfordshire Ave, Jacksonville, FL 32219.
            ANY gift is greatly appreciated during this difficult time.  We love you, and thank you so much for your help.
Updates
No Project Feeds available
Page 0 of 1, showing 0 records out of 0 total, starting on record 0
No updates available
No contributors available
This Campaign has begun funding. ♥ $5 minimum required. Campaign ends Wednesday Jan 20, 11:59 PM UTC
Contributors

0
Funding amount $

3,000.00

$

0.00
Hours to go
Campaign by

1 Campaign(s)
0 Donated campaign(s)
Following 0 campaign(s)
Contributors (
0

)
No contributors available
Followers (

0

)

No followers available