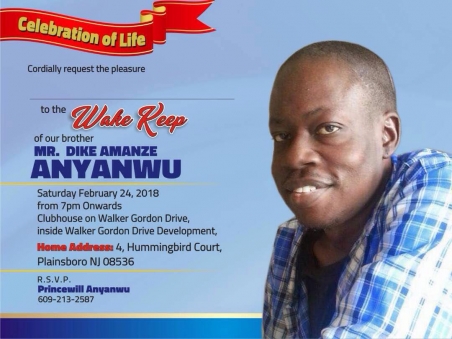 More media files associated with this campaign »
About this campaign
Wake Keeping for Dike Amanze Anyanwu
Dike Amanze Anyanwu

Donate link goes here
Dike Amanze Anyanwu, age 46 years, of Sugar Land, Texas, was a loving husband, father, brother, in-law, relative and friend who passed away February 5, 2018. He spent his last evening on earth in the company of his wife and child watching his favorite football team, the Philadelphia Eagles win the Super Bowl.
He lived up to his name "Dike", meaning a hero and warrior in the Igbo language, by not letting his health challenges define him.  Dike lived life to the fullest; finding success early on in life and endearing himself to others with that genuine smile and ability to make each person feel special.
He was born on January 9, 1972 in Pennsylvania to late parents, Eze Dr. Jonathan & Lolo Martha Anyanwu of Umueze Chokoneze, Ezinihitte Mbaise L.G.A., Imo State, Nigeria. Dike schooled at Federal Government College Okigwe in Nigeria and graduated from the University of Delaware, Newark, Delaware in 1995 with a BS degree in Engineering Technology. He leveraged his degree to become a successful Sales Engineer and Manager with early internet companies like UUNET Technologies, MCI Worldcom, Cable & Wireless, and AT&T. Dike then retired unwillingly to look after his health. His favorite colloquial saying, "Na condition wey make crayfish bend!" encompassed his philosophy on life and his survival spirit. Most of all, he was happiest being a Dad to his lovely daughter.
He is survived by his wife Dr. Jahna Anyanwu and his daughter Amarachi; his brother and wife Princewill and Kaanayo Anyanwu; his sister and husband Nonyerem and Eluma Obibuaku; his sister Chinenye Anyanwu; two nephews and two nieces; stepmother Dr. Martina Anyanwu (and step siblings Adanna, Chiedo, Ulunna, and Nnenna); the Anyanwu family headed by Dr. and Mrs. Rowland Anyanwu, parents-in-law Mr. and Mrs. Rufus Stanton; Uncles, Aunties, Cousins, and Kinsmen.
We, the family and his close friends, thank God for his noble life and the time He kept Dike here with us. Please join us in celebrating his life at Allen Dave Funeral Directors & Cremation Tribute Center (Houston, Texas) on Saturday, March 3, 2018. The viewing will be from 9:00 a.m. – 11:00 a.m. The funeral will begin at 11:00 a.m. Interment will follow at Houston Memorial Gardens Cemetery, Pearland, Texas.
In lieu of flowers, memorial donations may be made "Donate link goes here".
. Condolences may be left in Dike's online guestbook at http://www.allendave.com.
Updates
No Project Feeds available
Page 0 of 1, showing 0 records out of 0 total, starting on record 0
No updates available
No contributors available
This Campaign has begun funding. ♥ $5 minimum required. Campaign ends Tuesday Feb 27, 11:59 PM UTC
Contributors

0
Funding amount $

20,000.00

$

0.00
Hours to go
Campaign by

1 Campaign(s)
0 Donated campaign(s)
Following 0 campaign(s)
Contributors (
0

)
No contributors available
Followers (

0

)

No followers available